Douro Valley Wine Tour – Wine Venture and Boat Trip
Personal Guide, Transport, Wineries, Traditional Lunch and Private Boat Included
First of all, let's describe our Douro Valley Wine Tour! Discover here all about it…
The propose of this Tour is to show the Douro Valley from a pure, original and behind the scenes perspective. In other words, we designed the Tour thinking of what is really important to see, to drive through, to visit, to experience, to taste and to learn about it.
Additionally we have made some agreements with our family related winery owners to give us advantage of bringing our guests privately. Finally we have in mind the quantity of knowledge required to participate in this Wine Tour which is very low/moderate. Of course, after the Tour, you will be able to understand more about wine production, wine business and wine tasting. Furthermore you will learn about Port wine, the Douro Valley terroir and it's traditions.
Our selection of wineries are based in history, quality and being family-owned. Tasting their wines is embracing the all region by feeling its aromas, flavors and complexity.
The Journey to the magical Douro Valley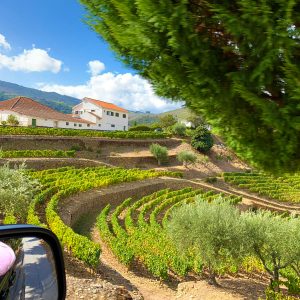 We start our day very early in Porto city center where we greet all our guests. The meeting point is located in the main square of Porto: Praça da Liberdade 126 – Porto. After meeting everyone we start heading east to Douro Valley wine region in a very comfortable Mercedes Van driving through spectacular roads. During the way you will enjoy some views of the vineyards in the Vinho Verde wine region because we have to cross it until we arrive the Douro. Besides you will also cross one of the biggest mountains in the North of Portugal: Serra do Marão.
As soon as we get the Valley you will immerse in breathtaking views with a lot of terraces built in the hills to support all the vineyards. Since 2001 this wine region is considered as World Heritage Site by Unesco. For this reason, it's time for a stop in a hidden viewpoint to take wonderful pictures.
Learn about Douro Valley terroir, it's wines production and get a delicious wine tasting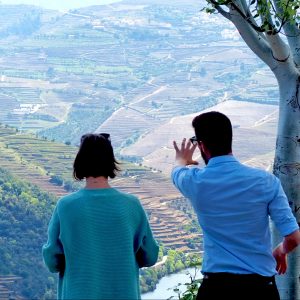 At this time of the Tour you will know more of history and Douro's artefacts told by our local guides. So, following this sequence you will have the opportunity to visit a stunning and old winery. Here you will discover more about Douro's viticulture, winemaking process and wine aging. You will learn about technical specifications of Douro wines and its terroir. Also, you will get the first contact with the very famous Port wine.
The boat trip experience in the heart of Douro Valley
After a delicious wine tasting what comes best after is a very relaxing and enjoyable boat trip. This boat experience is private only for our group because we don't mix with other companies. Considering we only work with small groups, as you can imagine, the boat trip is very intimate and absolutely amazing! Not only just a boat ride but also we serve a delicious beverage pairing with some local snacks. The boat ride last 1 hour and starts in Pinhão Village and gets eastern direction between wonderful vineyards and wineries. Majority of our guests use to mention this is one of the highlights of the day.
Traditional Portuguese Lunch in a Family-owned Winery included in this Wine Tour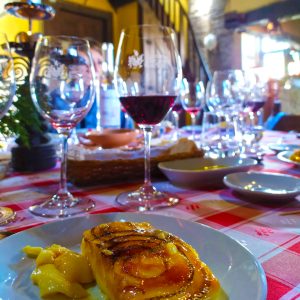 After the boat trip, we get back to the road and we drive by a different scenic route to get the next stop. During the way, we have the opportunity to stop in another viewpoint to take more pictures. Additionally, at this moment, we provide extra information about the terroir and all the characteristics of the terraces in Douro. Then we drive to another exclusive family-owned winery run by the same family by ages. It's here where we will enjoy a delicious home cooked Portuguese traditional lunch paired with their wines. The meal is prepared by the family just for our group! Yes, you read that, JUST FOR US! It is a great moment where we celebrate the best of life in a private museum room. Furthermore, it's the moment when our guests meets the family creating straight away a friendship relation.
We accommodate vegetarians, vegan, food allergies or any other food restrictions. Please mention that in the comments during the booking process.
The lunch it starts with delicious starters and apperetives. Then comes the local soupe like our mom cooks! What a treat… then we go for the main dish which usually is meat or fish (or any accordingly to guest's food restrictions). Every single dish is paired with the wineries wine. The lunch ends with a portuguese dessert also pairing with fortified wine. Obviously after the meal we take the opportunity to visit their charming building and the vineyard.
What's our commitment for our product Douro Valley Wine Tour?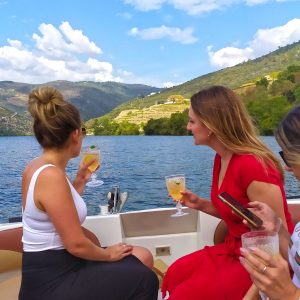 Without a doubt we are conscious that our Douro Valley Wine Tour is something that you can't make in your own. In conclusion, we are focus in exclusivity, quality and out of the beaten track. You have our promise that we are providing something special and uncomparable.
What guests are reviewing about our Douro Valley Tour
Please find here some reviews about this Wine Tour:
Resume of the activities
– Tour starts in Porto (estimated departing time: 08:30am)
– Stop in a viewpoint in Douro Valley
– Visit the 1st winery
– 1 hour private boat trip
– Stop in another viewpoint in Douro Valley
– Visit the 2nd winery with lunch included
– Walk in the vineyard
– Back to Porto (estimated arrival time: 06:00pm)
Not only this shared Tour but also is possible to enjoy in private mode. Please click here for more info or contact us if you have any questions or any doubts.
We belive The Douro Valley is undoubtedly one of the most scenic wine regions in the world. Come to feel it and to live it. Join us for one of the best Douro Valley Wine Tour in Portugal.
Seize the moment
" Please be mind this Douro Valley Wine Tour offers you something that you wouldn't have access on your own! Avoid copies and choose the Original Experience to Douro Valley… "
Departure

Praça da Liberdade 126 - Porto

Departure Time

8:30 AM

Return Time

Approximately 6:00 PM

Dress Code

Comfortable clothes and shoes for small walks. We recommend to bring very warm clothes from November to April. Sunscreen during the summer is needed.

Include

Wine Tasting

Food Tasting

Boat Trip

Lunch

Drinks

Transportation

Entry Fees

Personal Guide

Not Included
1
Meeting point - Praça da Liberdade 126 in Porto
The tour allows the booking of up to 14 people but we divide in two groups of 7 each Van.
2
Stop in a viewpoint for pictures
Once we get the Douro Valley we stop in a beautiful viewpoint for pictures, to relax and to feel the amazing breeze of the Valley.
3
First Vineyard / Winery
We will start by visiting a Vineyard "Quinta" where you will taste various wines from the Douro and Porto and learn a little more about this drink of the gods.
4
Private Boat Trip
A beautiful Private Boat Trip for 1 hour in the heart of the Douro Valley.
5
Second Vineyard / Winery
Then, we will visit a second, very familiar Vineyard "Quinta", where we will share stories and experiences on trips with the taste of beautiful regional wines.
6
Delicious Portuguese Lunch
Started by a toast with delicious Douro Wine and then some traditional Portuguese dishes.
7
Back to Porto
The return to Porto is done by a different route in Douro Valley.
Tour Location
The Douro Valley could as easily be called the enchanted Valley, such is the beauty and magic that its landscapes offer.
The Douro wines have ancient roots and they have evolved over many years into this liquid delicacy that nowadays delights our taste buds. Drinking a glass of Port Wine is like drinking a glass of history itself, the history of this region governed by wine.